Distance Learning Programs Delivered to Your Classroom (Grades K - 8j)
Our digital simulations are ideal for groups who are unable to visit the Challenger Learning Center in person.
We offer three engaging digital E-MISSION simulations for grades 5-8 as well as a simpler, hands-on and interactive DIGITAL DISOCVERIES for students in primary grades. Each of these are delivered directly to your classroom in an easy and intuitive videoconference format. These programs include standards-based lessons and activities that enable teachers to both prepare students and meet curriculum goals in a meaningful and realistic application.
---
e-Missions (Grades 4 - 8)
​Classes assemble as emergency response teams and then connect via live video link to Mission Control.  These live scenarios are conducted in your classroom by a skilled Flight Director at Mission Control from the Challenger Learning Center. Students work together using technical know-how and problem solving skills to navigate through a scenario fraught with crises.​
Digital e-Mission Details
Length: ~2.5 hours
Group Size: Up to 32 students
Price: $475* - Includes teacher training, classroom materials and standards-based lesson plans
*contact our Registrar to inquire about grant or scholarship funding assistance
For the 2023-2024 school year, choose from:
Moon, Mars and Beyond

™

Lunar Outpost

™
Operation Montserrat™
Digital e-Mission Programs
---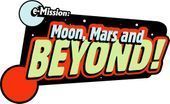 Moon, Mars and Beyond™ | Recommended: Grade 4
NASA needs our help to locate and rescue a lost spaceship orbiting one of the outer planets!  Students will form teams of cargo, navigation, and transmission specialists.  The cargo specialists calculate the number of days for a round trip to their planet and the amount of food, water, and oxygen needed for the rescue trip.  The navigation specialists will plot coordinates to help get location information on the lost spaceship.  Transmission specialists decode messages that give them clues about the location of the spaceship over the past five days.  All teams work together using information they receive to determine where the lost ship is located.  The communications team relays all information to mission control so that a rescue ship can be launched.  Your students will have an exciting and memorable experience locating and rescuing the lost spaceship!
---

Lunar Outpost™ | Recommended: Grade 5
The year is 2036 and a permanent habitat has been constructed near the lunar South Pole. Teams of researchers regularly travel to the moon, making the trek to various outposts to continue the search for critical resources that will both sustain life on the surface and enable humans to travel to the Moon, Mars and beyond. However, when the lives and science goals of an incoming team of researchers are threatened, students are called into action to use their skills and training to save the mission. Can they select a safe, alternative research site, still rich in vital resources, before the crew runs out of time? 
---

Operation Monsterrat™ | Recommended: Grades 6-8
The giant awakens and the skies darken as ash and soot rain down on a remote tropical island! The volcano—now a ticking time bomb—has come to life once again and the residents of the tropical island Montserrat worry about their fate. As flaming pebbles and lava begin to devastate the countryside, emergency response teams learn a hurricane is approaching. With this medley of disasters looming, Mission Control scrambles to assemble a team of specialists to assist the island residents. Operation Montserrat is a two-hour e-Mission adventure that will challenge students to apply their science and math skills to solve an authentic crisis situation.
---
Questions? Email us at Registration@ChallengerColorado.org
---
Digital Discoveries (Grades K - 3)
Digital Discoveries are simple to integrate, but highly engaging activities for students to explore complex science topics. Each packages includes:
hands-on, introductory in-class activity
interactive, digital connection with Challenger Flight Director
follow up lessons and resources
---
Digital Discovery Details
Connection Length: 50 minutes
Group Size: single class
Price: $200 - Includes teacher training, some classroom materials and a standards-based lesson plan
---
Kindergarten | The Sun & Earth - How the Sun Lights Up and Warms Our Planet
Students explore how the sun's light and warmth affects the Earth and life on our planet.
Standards: K.PS3.1, K.PS3.2
Grade 1 | Patterns in the Sky - The Sun, Moon, and Stars
Students explore how and why the sun and moon change their appearance in predictable ways.
Standards: 1.ESS.1, 1.EES.2
Grade 2 | Time & Change: Processes That Shape the Earth
Students explore such geologic phenomena as mountains, rivers, canyons and volcanoes, both on Earth and Mars, and the relative time involved in the formation of each.
Standard: 2.ESS1.1
Grade 3 | Weather & Climate: Analyzing Patterns & Making Predictions
Students practice gathering and analyzing weather data, learn the difference between weather and climate, explore how satellites are used for gathering weather and climate data, and are introduced to using this data for decision making and engineering tasks.
Standards: 3.ESS2.1, 3.EES3.1
---