The Challenger Crew
On January 28, 1986, the seven crew members of the Space Shuttle Challenger set out on a mission to broaden US educational horizons and promote the advancement of scientific knowledge. Aboard the Challenger shuttle that day was first Teacher In Space, Christa McAuliffe, and 6 highly-trained fellow crew members. Although the Challenger shuttle and its precious crew would not reach their low-Earth orbit destination or have the opportunity to complete their goals, the mission continues through the efforts of the network of learning centers dedicated to doing just that...inspiring and engaging the next generation of explorers.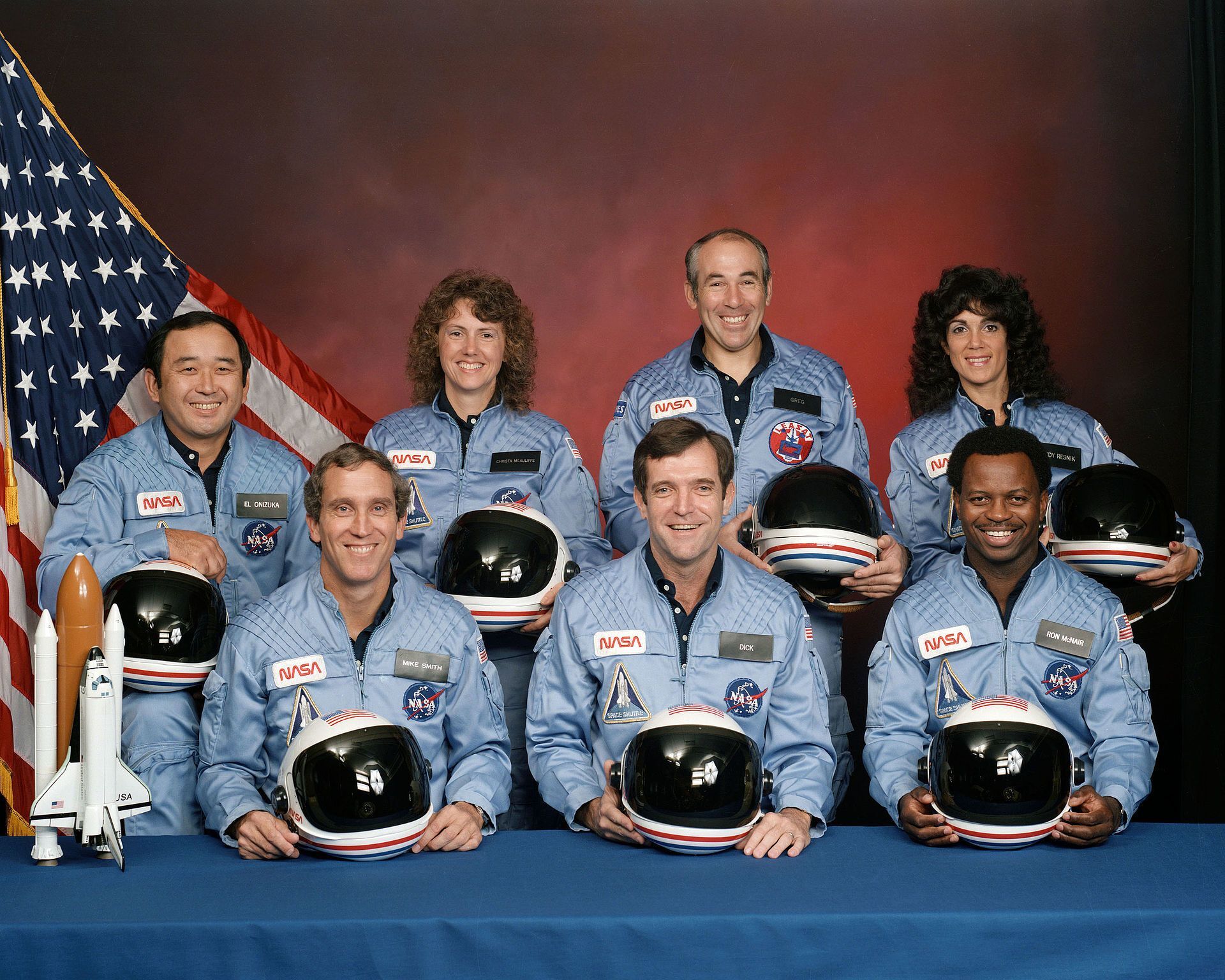 In the back row, from left, mission specialist Ellison S. Onizuka; Teacher in Space Participant Sharon Christa McAuliffe; Payload Specialist Greg Jarvis and Mission Specialist Judy Resnik. In the front row, from left, Pilot Mike Smith; Commander Dick Scobee; and Mission specialist Ron McNair.]
---
Our History
In the aftermath of the Challenger accident, the crew's family members resolved to create a living memorial to the Challenger crew: a space science education center where teachers and students could use state-of-the-art technology and space-life simulators to "explore space" as they apply mathematics, science and technology in a workplace of the future.
The result was the Challenger Learning Center concept, a national network of educational facilities containing highly interactive simulations of living and working environments in space.  Centers focus on several critical long-term goals of national value and impact:​
Promoting enthusiasm for the STEM topics and careers; 
Improving knowledge and problem-solving skills; 
Teaching teamwork, communication skills, and critical thinking.
Located across North America, the United Kingdom and South Korea, 40-some Challenger Learning Centers bring realistic space science simulations to school children every day.
---
Who We Are
Challenger Learning Center of Colorado (CLCC) opened its doors in 2002.  CLCC provides a first class space-based learning environment where schoolchildren, families, seniors, corporate teams and other community members "fly" simulated space missions.  Featuring a Mission Control Center modeled after NASA's Johnson Space Center, a Space Transporter and a Spacecraft/Space Station simulator where experiments are performed and probes are assembled and "launched" into the depths of outer space, students come for a full day of exciting hands-on programs, including a beautiful 40-seat planetarium and a dedicated Maker Space.
These simulated "out-of-this-world" experiences allow K-12 students, adult, and corporate crews to apply and learn additional skills in mathematics, science, technology, language, reading, communication, engineering and team-building.
Challenger Colorado moved to a purpose-built 10,500 square foot facility in northeast Colorado Springs in 2019.  If you can't come visit us, we offer distance-learning "e-Missions" and a second, portable planetarium.  We can serve an entire school at your location.  No buses required for our portable programs!
Annually, Challenger Learning Center of Colorado serves about 32,000 eager learners from the Rocky Mountain Region, surrounding states and across the country.

---
Our Mission
The mission of the Challenger Learning Center of Colorado is to inspire and engage K-12 students in science, technology, engineering and math (STEM) subject areas, using space as the motivating element.
To do this, we ensure that our engaging classroom programs are appropriate and engaging for all K-8 students, easily implemented by educators, and available to all students regardless of location or socio-economic status.
Incredible space simulations at our Colorado Springs facility 
Fascinating astronomy shows in our Mikkelson Planetarium
Challenging design/build activities in our Maker Space
Intriguing distance-learning space e-Missions delivered via broadband to your school
Traveling planetarium shows at your school
Design Challenges to engage the minds and hands of your students