2021 Aerospace Adventure Camps
We're excited to offer space-themed, in-person STEM summer camp sessions for students in grades 1 - 7.
Astroagents (Grades 1-2)
Lunar Trek (Grades 3-4)
Destination Mars (Grades 5-7)
Camps will be held in various locations across Colorado Springs.
Locations: (Click a link to be taken to a map of each school's location.)
---
AstroAgents: Alien Contact
(grades 1-2) - $280
Calling all AstroAgents: Your job? To protect the galaxy! 
You're on an epic mission to rescue a wandering alien friend! Agent campers will explore planetary neighbors while encountering robotic engineering challenges, space related crafts and super stellar snacks!
4 Full-Day Sessions - 8:30 am - 3:30 pm
---
---
Lunar Trek
(grades 3-4) - $280
In Lunar Trek, you'll get the chance to build your own moonbase!
Learn what it takes to be lunar explorers during this astronaut training session. Using Sphero and Dash robots, campers will test their skills as they cruise to the moon using robots, engineer solutions to out-of-this world problems and build a moonbase in the process.
4 Full-Day Sessions - 8:30 am - 3:30 pm
---
---
Destination Mars
(grades 5 - 7) - $280
Design, build, and program future missions using LEGO® MINDSTORMS® EV3 robotic kits and the LEGO® SPACE CHALLENGE SET. Campers will discover what takes to plan and launch future space missions allowing humans to reach our one of future space destinations…Mars!
4 Full-Day Sessions - 8:30 am - 3:30 pm
---
---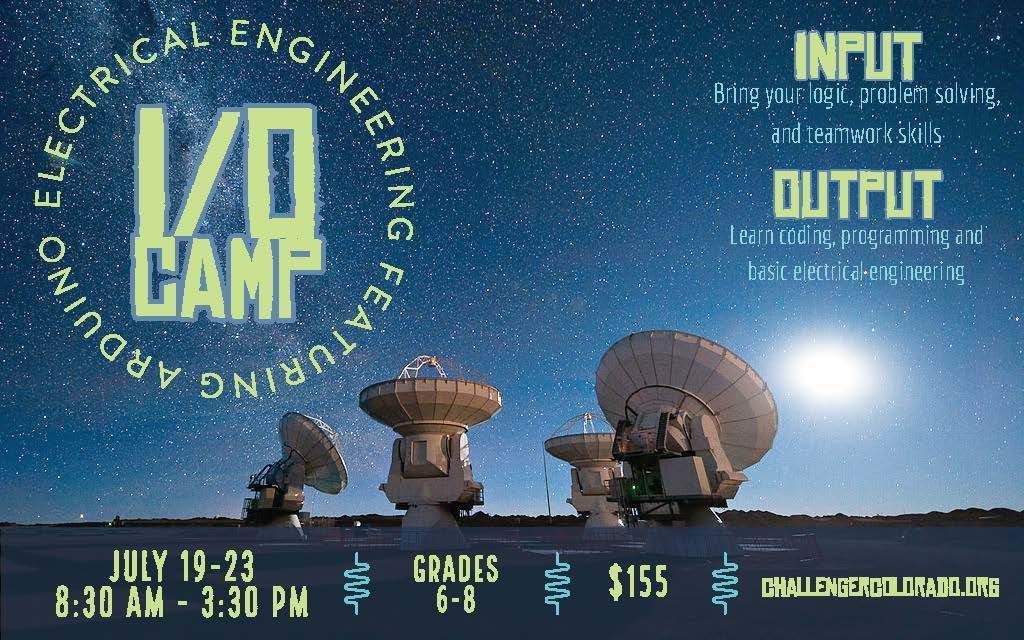 I/O Camp - Electrical Engineering Featuring Arduino
Investigate the fundamentals of electrical engineering and coding using basic Arduino programming kits.
But basic does not mean boring!
Campers will build daily on skills integral to understanding important concepts in the engineering and design process...all with an engaging storyline to apply to team challenges.
5 Full-Day Sessions - 8:30 am - 3:30 pm
$155