2020 Digital Aerospace Adventure Camps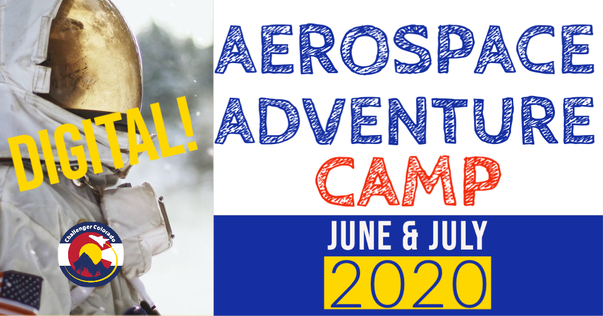 Digital Camp Format:
4 days 
Optional, free 5th day planetarium show
Daily digital meet up with instructor (30-45 minutes)
Easy to implement at-home explorations and links
Parent video orientation
Free t-shirt
IMPORTANT: A portion of camp supplies will be provided by Challenger Colorado and will need to be picked up from the learning center prior to the start of camp. Other household items may be need to be purchased, if not available in the home, prior to camp.
---
AstroAgents: Alien Contact (grades 1-2) - $35
Calling all AstroAgents: Your job? To protect the galaxy! 
During virtual meetings with one of our counselors, you'll get the chance to learn new codes and identify some traveling aliens in our solar system! Later, as a part of your training on your own, you can choose from our different activities that will teach you about space through time spent outdoors, crafts, snacks, and songs 
June 15 - 18 (19th optional) - Student meet time - 8:30 a.m. MDT
June 22 - 25 (26th optional) - Student meet time - 8:30 a.m. MDT
June 29 - July 2 (3rd optional) - ​Student meet time - 8:30 a.m. MDT
---
Lunar Trek: Moonbase Engineers (grades 3-5) - $35
In this mini version of our Lunar Trek summer camp, you'll get the chance to build your own moonbase!
Virtually with your counselor, you will share your progress and learn about the day's challenges. Later, on your own, you will build structures from household materials, build your base totally online, or try both options! What will you include? Will you train like an astronaut or make a model of the moon? Will you eat lunar-inspired snacks or focus on your mission patch? Will you do it all? This is your base, and you make the calls.
June 15 - 18 (19th optional) - Student meet time - 10:00 a.m. MDT
June 22 - 25 (26th optional) - Student meet time - 10:00 a.m. MDT
June 29 - July 2 (3rd optional) - ​Student meet time - 10:00 a.m. MDT