Our Team
Our staff strives to provide students with exciting and engaging space mission simulations and other STEM activities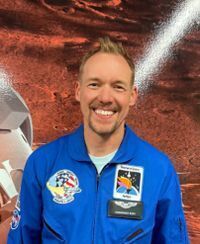 Ron Bush, President and CEO
Inspired by a student teacher he had in elementary school, Ron was always interested in science. He spent the first 12 years of his career sharing that passion with his students as an elementary and middle school science teacher. Now, after seven years at Challenger, including the past three as Vice President of Education at Challenger,  Ron has been elevated to CEO and President.  Ron's favorite Challenger program to run is the Night Sky planetarium show. No matter what their age, learning about the night sky is a great way to spark a sense of wonder and curiosity in students. And just like it did for him, Ron hopes that spark leads his students to a lifelong fascination of the creation around them.  Ron spends as much time as possible enjoying the Colorado mountains with his wife, Stephanie, and their three boys.  As a native of Pittsburgh, PA, Ron bleeds "Black & Gold" for his beloved Steelers, Penguins, and Pirates.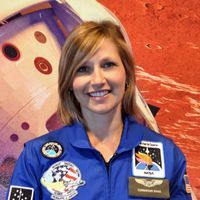 Becca Manis, Vice President of Education
Becca has been a part of the Challenger network since 1999 as both a Center Director and Lead Flight Director. Her love of the outdoors is what drew her into science education, as a former elementary and middle school teacher; it was also the inspiration for her move from Indiana to Colorado. Now, as a member of the Challenger Learning Center of Colorado team, she's excited about engaging even more students in the STEM fields through her role as Vice President of Education.  e-Mission: Lunar Outpost is Becca's favorite program to run because, despite the fact that the mission is conducted digitally, students remain thoroughly engaged and excited by the science and their contributions to the experience. Outside of the Challenger Center, you might find Becca at the dog park, playing volleyball or spending time with her family.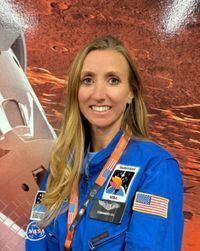 Carrie Hill, Lead Flight Director
Carrie has always loved teaching.  She got her teaching degree from Middle Tennessee State University, where she developed a passion for technology that led her to work as a Computer Software Instructor for 15 years.  During this time she completed her MBA from University of Colorado at Colorado Springs.  She brings her technical background and passion for teaching to the Challenger Learning Center.  Carrie's favorite mission is Expedition Mars. She loves seeing the students completely engaged and captivated by this learning experience.  Carrie spends her free time traveling or adventuring in Colorado with her family and three dogs.
Katie Goodman, Registrar and Flight Director
Katie has always had a love for math and science, and found herself teaching those specialties in middle and elementary schools before finding her true passion: STEAM. She graduated from Pepperdine University with a bachelors in Liberal Arts, and then a masters in Education. She has taught in California, Washington, and Colorado. In Colorado she was introduced to the Challenger Learning Center. After testing out new programs with Challenger Colorado, and developing a STEAM program at Legacy Peak Elementary, she was awarded with the June Scobee Rodgers Innovative Educator Award in 2021. Now she works as a flight director, and curriculum developer, bringing her love of the STEM subjects, and adding an extra jolt of creativity. Along with her husband, and two kids, she enjoys living a STEAM life at home where they are always creating something new and enjoying the beautiful Colorado forest.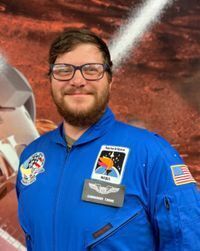 Jerard Carney, Flight Director
 Jerard graduated from the University of Technology (UAT) majoring in Artificial Intelligence (AI) programming. His passion is optimizing and simply fixing things to be their best versions.  Prior to finding his passion in technology, Jerard was a medic in the Army, and an EMT for Children's Hospital Colorado. He is excited that being a part of the Challenger Crew allows him to turn hobbies, like 3D printing, astronomy, and Arduino programming into practical applications. His "nerdy game side" likes video games, Dungeons and Dragons, and Warhammer and even this skillset will help accentuates Challenger Colorado's center and programs. Jerard strives to ensure that others are taken care of and a motto he lives by is "Hic Servire"- Here to Serve. He believes everyone has the potential to be their best self and that this takes discipline, sacrifice, and determination and utilizes this philosophy while flying all of his Challenger programs. When not at work, you might catch Jerard hanging out with his wife and 2 sons, in his garden, or focused on one of his many hobbies.
Stephanie Carriere, Flight Director
Stephanie is passionate about encouraging the kids of today to be the scientists, astronauts, engineers, and health care professionals of tomorrow. Her background studying neurobiology and child development at UC Davis give her a strong foundation to effectively teach children how fun and interesting science can be. She loves working at Challenger Center for the opportunity to watch kids overcome obstacles, encourage them to work together and see their joy when they achieve something they didn't think was possible for them. Her favorite parts of the missions are the emergencies that kids have to work together to resolve, as the looks of pride on their faces when they "save the day" are priceless. When she's not at Challenger Center, Stephanie also works as a pediatric emergency department nurse, where she uses her knowledge and skills to help children get back to feeling like their best selves. In her free time, Stephanie loves running marathons, reading good books and spending time with her family and dogs. 
Patrick Gaddis, Flight Director
Born and raised on Florida's space coast, Patrick had a front row seat to the launches of the Space Shuttle program from his backyard. Ever since, he has been known as a self-ascribed space junkie. Patrick then moved to Colorado, where he completed a BS in Physics/Astrophysics with a minor in education in 2016. Patrick first started with Challenger as a summer camp instructor along with a teaching position at Vista Ridge High School in District 49. After 6 years as a Science/Math educator, he now works full time at the center. Patrick's favorite program is the Mars Simulator Mission. In his free time, Patrick can be found watching a good movie or playing the latest games.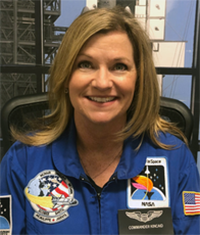 Mary Kincaid, Flight Director
After graduating from Colorado State University and receiving her teaching degree from Hardin-Simmons University in Texas, Mary began her rewarding teaching career as an elementary school teacher. Mary has always loved working with kids and tapping into their imaginations. She sought out a position at the Challenger Learning Center after hearing about it from her own kids….who each thought it was the best field trip ever!
 Mary's favorite mission is 
Expedition Mars
 as it is engaging, involves teamwork, and is downright fun. When not running a mission, you will find Mary refinishing furniture, gardening, fostering kittens, or hiking in the beautiful mountains of Colorado. But, her hands-down favorite thing to do is relaxing on her patio with her husband and three amazing kids.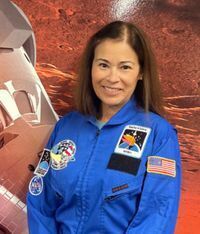 Leni Schlieper, Flight Director
Leni always knew she wanted to be a teacher. After graduating from Cal State Fullerton and getting married, the USAF sent her husband (and her) to Victorville where she started her career. After living in Nevada, North Carolina, England, Alabama, Colorado, and Alaska (and having taught in most), it was in Colorado where Leni discovered the power of STEM learning with her Kindergartners. This catapulted her to plan and host school-wide Engineering Days with a small army of STEM professionals supporting. She wrote and received two grants for STEM endeavors impacting hundreds of students. For three years, she coached 4th and 5thgrade robotics teams, going to the state championship twice. Later as a 4th grade teacher, her first class of 4th grade students performed their first mission with Challenger Learning Center. She, and more importantly, her students were hooked. Leni is committed to introducing ALL students to STEM and inspiring a love of learning. Leni and her husband boast three grown children and a son-in-law. Having had the gift of living all over, they love to travel. Locally, the family loves the array of Denver museums and the Switchbacks.  She and her husband are often looking for the next best Indian restaurant comparing each to the tastes they got to savor during their years in England. She is also a bit of a Harry Potter fan.
Kendra Thompson, Flight Director
Born and raised in Colorado, Kendra always had her sights set on becoming a teacher. After finishing her B.A., she went on to earn her Master of Science in Curriculum and Instruction, with an emphasis in secondary Social Studies. She joined Challenger Learning Center in 2019 and her love of teaching quickly broadened into the STEM field. Kendra's favorite part of teaching is encouraging critical thought and this opportunity presents itself in every aspect of Challenger's curriculum. She equally loves running simulated missions and expanding STEM knowledge in all the MakerSpace activities Challenger has to offer. When she's not at work, you can find her spending time with her husband and kids enjoying all that Colorado outdoors has to offer or volunteering at her kids' school.
---
Board of Directors 2023
Lt. Gen. Winfield W. Scott, Jr. | Chair​man Emeritus
Superintendent, United States Air Force Academy (ret)
Dr. Gary R. Coulter, Ph.D. | Founder and Chair​man Emeritus
Founder and Past President, CCESSE; Lt Col USAF (ret), NASA (ret), Academy District 20 Board of Education (ret)
Mr. Brad R. Barnes, CPA | Chair
CFO, Air Academy Federal Credit Union
Dr. Martin France, Ph.D. | Secretary/Treasurer
Brigadier General, USAF (ret), Permanent Professor and Head, Department of Astronautics, USAF Academy (ret)
Mr. Johnathon Caldwell | Member
Vice President and General Manager, Lockheed Martin Military Space
Dr. Robert Fredell, Ph.D. | Member
Colonel, US Air Force (ret)
Mr. Jim Mikkelson | Member
President, The Mikkelson Foundation; Chief Technical Officer, Vitesse Semiconductor (ret)
Mr. Steve Smith | Member
​Attorney, Independent Arbitrator, Mediator and Consultant; former VP and General Counsel, Lockheed Martin Space
Board Members Emeritus: 
General Lance W. Lord, Commander of Air Force Space Command, (USAF Ret)
Dr. Bruce L. Doyle, Past President, Board of Education, CO Springs School Dist 11; Past President, CO Assoc of School Boards
Mrs. Vivian Teets, retired systems engineer and tireless advocate for STEM education
Mr. Willie L. Daniels, II, President and CEO, Shades of Blue; 777 Captain, United Airlines
Mrs. Tracey L. Tomme, CEO, Dayton Natural History Society, past President and CEO, CCESSE
Mr. Robert G. Peterson, Colonel, United States Air Force (ret); Vice President, Lockheed Martin Corp. Business Development, Space Programs (ret)