Our Team
Our staff strives to provide students with exciting and engaging space mission simulations and other STEM activities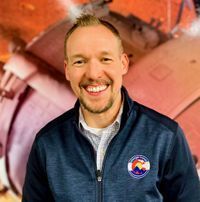 Ron Bush, President and CEO
Inspired by a student teacher he had in elementary school, Ron was always interested in science. He spent the first 12 years of his career sharing that passion with his students as an elementary and middle school science teacher. Now, after seven years at Challenger, including the past three as Vice President of Education at Challenger,  Ron has been elevated to CEO and President.  Ron's favorite Challenger program to run is the Night Sky planetarium show. No matter what their age, learning about the night sky is a great way to spark a sense of wonder and curiosity in students. And just like it did for him, Ron hopes that spark leads his students to a lifelong fascination of the creation around them.  Ron spends as much time as possible enjoying the Colorado mountains with his wife, Stephanie, and their three boys.  As a native of Pittsburgh, PA, Ron bleeds "Black & Gold" for his beloved Steelers, Penguins, and Pirates.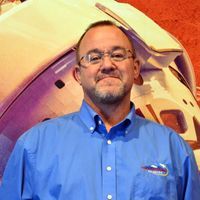 Marty Grantz, Registrar/Mission Bookings
Marty Grantz spent 14 years with the City of Colorado Springs Parks and Recreation, serving as an Administrative Technician and Events Coordinator. He helped open Cottonwood Creek Recreation Center, establishing an award-winning customer service team.  A three-sport athlete in high school, Marty was a sports reporter at the Gazette newspaper for 10 years and is in his 29th season as Official Scorer for the Pacific Coast League of Professional Baseball, assigned to home games for the Colorado Springs Sky Sox. The youngest in a family of 10 kids, many of them teachers and coaches, Marty studied mass communication at the University of Colorado. He is married to Danette, an elementary school teacher, and together they have two sons – Nick and Will.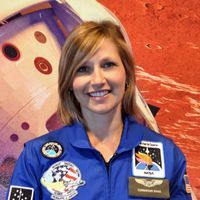 Becca Manis, Vice President of Education
Becca has been a part of the Challenger network since 1999 as both a Center Director and Lead Flight Director. Her love of the outdoors is what drew her into science education, as a former elementary and middle school teacher; it was also the inspiration for her recent move from Indiana to Colorado. Now, as a member of the Challenger Learning Center of Colorado team, she's excited about engaging even more students in the STEM fields through her role as Vice President of Education.  e-Mission: Lunar Outpost is Becca's favorite program to run because, despite the fact that the mission is conducted digitally, students remain thoroughly engaged and excited by the science and their contributions to the experience. Outside of the Challenger Center, you might find Becca at the dog park, playing volleyball or spending time with her family.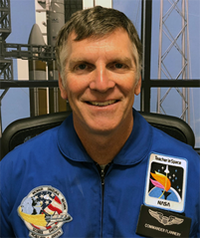 Steve Flannery, Teacher on Special Assignment/Flight Director
Steve loves space for the inspiration and sense of wonder that exploring it offers, as well as for the deeper appreciation of the earth inevitably gained from seeing our planet from afar. A graduate of Air Academy High School, he earned a bachelor's degree in Journalism from Colorado Sate University and an M.A. in curriculum and instruction from UCCS. He has taught at the middle and high school level for 23 years, the past 13 at Pine Creek High School. Although he is thrilled to be a part of all the Challenger Center's space and science programs, he is most excited about exploring the cosmos with student groups in our facility's beautiful new Mikkelson Planetarium. When he is not at the Challenger Center, he enjoys spending time with his wife and four daughters and making the most of all the Colorado outdoors has to offer, preferably at the same time.
Carrie Hill, Flight Director
Carrie has always loved teaching.  She got her teaching degree from Middle Tennessee State University, where she developed a passion for technology that led her to work as a Computer Software Instructor for 15 years.  During this time she completed her MBA from University of Colorado at Colorado Springs.  She brings her technical background and passion for teaching to the Challenger Learning Center.  Carrie's favorite mission is Expedition Mars. She loves seeing the students completely engaged and captivated by this learning experience.  Carrie spends her free time traveling or adventuring in Colorado with her family and three dogs.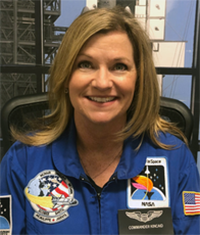 Mary Kincaid, Flight Director
After graduating from Colorado State University and receiving her teaching degree from Hardin-Simmons University in Texas, Mary began her rewarding teaching career as an elementary school teacher. Mary has always loved working with kids and tapping into their imaginations. She sought out a position at the Challenger Learning Center after hearing about it from her own kids….who each thought it was the best field trip ever!
Mary's favorite mission is 
Expedition Mars
 as it is engaging, involves teamwork, and is downright fun. When not running a mission, you will find Mary refinishing furniture, gardening, fostering kittens, or hiking in the beautiful mountains of Colorado. But, her hands-down favorite thing to do is relaxing on her patio with her husband and three amazing kids.
Caitlyn Reighley, Flight Director
Some people look for the best job IN the world; Caitlyn looked for one that was OUT of this world.  A space enthusiast, Caitlyn loves learning about the Moon, Mars, and all things NASA. Her role at Challenger has been a long time coming.  As a Girl Scout in middle school, Caitlyn flew on a mission at the Challenger Learning Center and dreamed of someday being a flight director.  Later trips to Kennedy Space Center and the National Air and Space Museum continued to fuel her interest.  Now a former elementary and middle school teacher, Caitlyn's favorite subjects to teach were math and science, and she's happy to still teach those subjects as a flight director.  Her favorite mission is Rendezvous with a Comet because she enjoys seeing younger students excel as they work together.  When she's not at Challenger, Caitlyn prefers to be outside enjoying the sunshine, on the couch reading a good book, or in the kitchen developing new recipes for her family to try. 
Kendra Thompson, Flight Director
Born and raised in Colorado, Kendra always had her sights set on becoming a teacher. After finishing her B.A., she went on to earn her Master of Science in Curriculum and Instruction, with an emphasis in secondary Social Studies. She joined Challenger Learning Center in 2019 and her love of teaching quickly broadened into the STEM field. Kendra's favorite part of teaching is encouraging critical thought and this opportunity presents itself in every aspect of Challenger's curriculum. She equally loves running simulated missions and expanding STEM knowledge in all the MakerSpace activities Challenger has to offer. 
When she's not at work, you can find her spending time with her husband and kids enjoying all that Colorado outdoors has to offer or volunteering at her kids' school.
---
Board of Directors 2021
Lt. Gen. Winfield W. Scott, Jr. | Chair​man Emeritus
Superintendent, United States Air Force Academy (ret)
Gary R. Coulter, Ph.D. | Founder and Chair​man Emeritus
Founder and Past President, CCESSE; Lt Col USAF (ret), NASA (ret), Academy District 20 Board of Education (ret)
Brad R. Barnes, CPA | Chair
CFO, Air Academy Federal Credit Union
Elaine Knight |Vice Chair
Brigadier General, USAF (ret)
Martin France, Ph.D. | Secretary/Treasurer
Brigadier General, USAF (ret), Permanent Professor and Head, Department of Astronautics, USAF Academy (ret)
Tom Gregory | Member
​Superintendent, Academy School District Twenty
David Kohlman, Ph.D | Member
Professor of Aeronautical Engineering, University of Kansas (ret)
Jim Mikkelson | Member
President, The Mikkelson Foundation; Chief Technical Officer, Vitesse Semiconductor (ret)
Kay Sears | Member
​Vice President & General Manager Military Space, Lockheed Martin Space
Steve Smith | Member
​Attorney, Independent Arbitrator, Mediator and Consultant; former VP and General Counsel, Lockheed Martin Space
Board Members Emeritus: 
General Lance W. Lord, Commander of Air Force Space Command, (USAF Ret)
Dr. Bruce L. Doyle, Past President, Board of Education, CO Springs School Dist 11; Past President, CO Assoc of School Boards
Mrs. Vivian Teets, retired systems engineer and tireless advocate for STEM education
Mr. Willie L. Daniels, II, President and CEO, Shades of Blue; 777 Captain, United Airlines
Mrs. Tracey L. Tomme, CEO, Dayton Natural History Society, past President and CEO, CCESSE
Mr. Robert G. Peterson, Colonel, United States Air Force (ret); Vice President, Lockheed Martin Corp. Business Development, Space Programs (ret)